Ocean Wind 1 Donates Electric Bicycles to Atlantic City Police Foundation
2022-12-13T13:58:09.0000000Z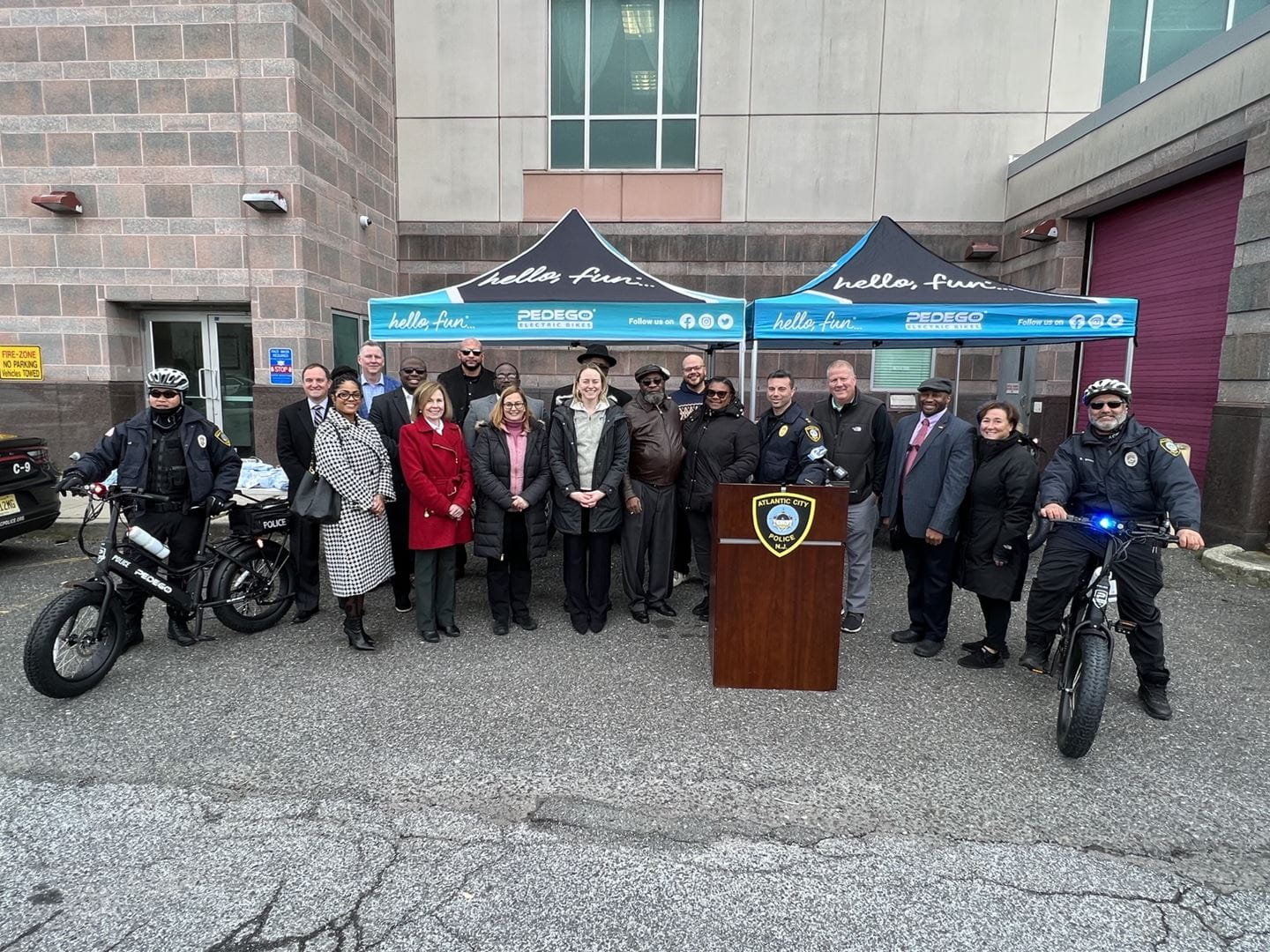 Atlantic City, NJ – Today, through a generous donation from Ocean Wind 1, a fleet of 10, zero-emission, electric bicycles were delivered to the Atlantic City Police Department where they will be incorporated into their policing activities.
After unveiling the e-bikes, Police Chief James A. Sarkos and members of the Atlantic City Police Department took them for a trial spin around the parking lot. Ocean Wind 1 donated nine e-bikes with Ocean City-based retailer, Pedego donating one, for a total of 10.
"We salute the work of the members of the Atlantic City Police Department, and we are so pleased to present these e-bikes to introduce a clean energy concept that helps power the officers' important work in the community," said Maddy Urbish, Head of Government Affairs and Market Strategy, New Jersey, Ørsted. "Some of the best and most effective initiatives start the way this one did – through partnerships and creative approaches to getting the job done."
Ørsted and PSEG are building Ocean Wind 1, the state's first offshore wind farm off the southern coast of New Jersey. Ørsted is also building an operations and maintenance facility in Atlantic City, as part of its commitment to helping diversify the City's economic base while preparing offshore wind job training, development and employment opportunities here.
Joseph R. Jingoli, Jr., CEO, JINGOLI and Jack Morris, president and CEO, Edgewood Properties, Inc., both, co-owners of Hard Rock Hotel & Casino Atlantic City brought the idea to Ocean Wind 1 following a conversation with Chief Sarkos. "Anything we as corporate citizens can do to offer ideas or assistance to our police, we should do," said Jingoli and Morris. "When this need arose, we immediately turned to Maddy Urbish for help given Ørsted and PSEG's commitment to Atlantic City and sustainability, and she jumped in with two feet, offering to donate the e-bikes to the Atlantic City Police Foundation."

"Partnerships between the public and private sector like this are an important part of our community and made possible through the Atlantic City Police Foundation," said Chief Sarkos. "Any tool that can help us better connect with residents and serve the needs of the City, I'm open to. I envision the bikes will be used within the community, on the boardwalk on the beach and anywhere greater accessibility is needed."

"This is community partnership at its best," said City of Atlantic City Mayor Marty Small, Sr. "We have an aggressive clean and safe agenda here in the great City of Atlantic City, and this creative idea, put into action by the Ocean Wind 1 team, offers a unique clean energy solution that will give our police officers another tool to protect our residents and visitors alike. We appreciate this donation."


About Ocean Wind 1
Ocean Wind is a 1,110 MW offshore wind project by Ørsted and PSEG that will provide enough clean energy to power 500,000 New Jersey homes. To learn more, visit oceanwind.com.
The Ørsted vision is a world that runs entirely on green energy. In the United States, Ørsted operates the Block Island Wind Farm, America's first offshore wind farm, and constructed the two-turbine Coastal Virginia Offshore Wind pilot project – the first turbines to be installed in federal waters. Ørsted has secured over 2,900 megawatts of additional capacity through five projects in the Northeast and Mid-Atlantic. To learn more visit us.orsted.com or follow us on Facebook, Instagram and Twitter (@OrstedUS).
Public Service Enterprise Group (PSEG) (NYSE: PEG) is a predominantly regulated infrastructure company focused on a clean energy future. Guided by its Powering Progress vision, PSEG aims to power a future where people use less energy, and it's cleaner, safer and delivered more reliably than ever. PSEG's commitment to ESG and sustainability is demonstrated in our net-zero 2030 climate vision, our pursuit of science-based emissions reductions targets and participation in the U.N. Race to Zero, as well as our inclusion on the Dow Jones Sustainability North America Index, the Bloomberg Gender-Equality Index and the list of America's most JUST Companies. PSEG's businesses include Public Service Electric and Gas Co. (PSE&G), PSEG Power and PSEG Long Island. (https://corporate.pseg.com).

About Atlantic City Police Foundation
The Atlantic City Police Foundation has had a meaningful impact on the safety of Atlantic City Police officers and the community through the purchase of equipment not supported in the municipal budget. The Foundation also supports various community policing and anti-violence initiatives of the Police Department, Police Athletic League and the Police Explorers.

Media contact:

Liz Thomas
liz@thomasboyd.com